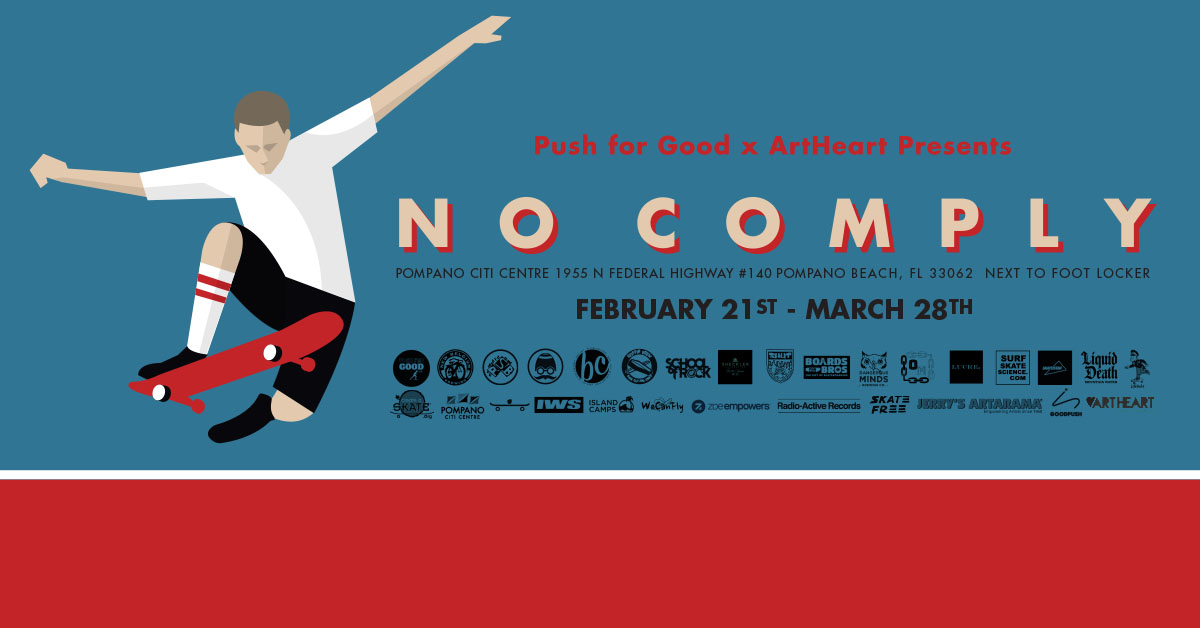 Push for Good x ArtHeart: NoComply
Exhibit Closing: 3/28/2020 from 5-11PM
Push 4 Good & ArtHeart are teaming up with local, national and international artists for a cause. Join us Wednesdays, Fridays and Saturdays from 6-9pm to see the No Comply Exhibit: Celebrating the Art Inspired by Skateboarding & it's Culture.
N o C o m p l y will continue the tradition by showcasing both emerging and established artists. The exhibit will feature a varied styles of works al inspired by the culture of skateboarding. Curated by Push 4 Good & ArtHeart's Katya Neptune. The partnership between ArtHeart and Push for Good exists to allow artist to give back through their gifts.
A percentage of sales will be split between 4 causes that are close to our heart:
JOIN US as these artists, musicians, skateboarders and our local community merge to share their talents for a meaningful cause.
---
5pm-11pm
ADMISSION: $5 suggested donation.
(FREE Admission for Kids under 11)
---
EXHIBITING:
Ray Barbee @r.barbee + Zakriya Rabani @flow_zak + Michael Tiley @tilleyyellit +
Alex Yurrita @alejandroyurrita + Zion Frallicciardi @zionf + Blair Hess @curbela + Steve Caballero @stevecaballero + Simon Skipper @officialskippz + Derek Michael Brennan @derekmichaelbrennan + Jamie Meagher @petalandbone + Anthony Cardenas @moderncholo + Megaton Joe @Megaton.co + Lance Mountain @lancemountain + Gregory Dirr @GregoryDirr + Kevin Carmody @kevincarmodyart + Mike A. Cohen @zoojerz + Robbie Arias @exteenager + Alek Dillon + Benny Guerra @bro0000ski + Dillon Collins @dillon_collins + Chris Miller @digimil + Corinne Séguin @corinneseguinart + Cory Scroggins @corythecreative + Ole Skedsmo @rivingtonludlow + Drew Fenton @drewble_art + Alex Rodriguz @1aguacero + Blake Burns @blakeburnsart + Blair Alley @blair.alley + Ron Allen @ronallensk8 + More to be announced
---
SPONSORED BY:
Pompano Citi Centre
Push for Good
Art Heart
New Belgium
Lucre
Dangerous Minds
School of Rock
Radioactive
Jerry's Artarama
MegatonCo
Grind Coffee project
Prolab Printing
LifeValet
IWS Skate
Island Camps
Surf Skate Science
BC Surf & Sport
Skateistan
Shut NY
We Can Fly
Create-A-Skate
Liquid Death Mountain Water
RSB
Sheckler Foundation
Skate Free FL
Zoe Empowers
Coffin Krew
The Hangry Project
The Good Push
Hangry Project
Mad Skate
OM One Link
Double Time Digital
---